Throughout our history, the United States has welcomed newcomers from all over the world. Immigrants have helped shape and define the country we know today. Their contributions help preserve our legacy as a land of freedom and opportunity. More than 200 years after our founding, naturalized citizens are still an important part of our democracy.
When Maria became interested in obtaining U.S. citizenship, she visited Glenside Library. By enrolling in our two-part Citizenship Study Group, Maria had the opportunity to review the N-400: Application for Naturalization, practice the citizenship test, rehearse for the naturalization interview, and prepare for the Oath of Allegiance.
On Wednesday, January 26, 2022, Maria Alamillo became a U.S. Citizenship. Maria pursued this day wholeheartedly and pledged allegiance to this country; now we welcome her to the American family!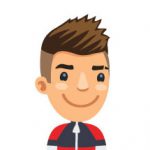 Citizenship Study Group
Part 1: Tue, 05/03 from 6:00-8:00 pm
Part 2: Tue, 05/10 from 6:00-8:00 pm
ELL Conversation Groups
Practice your English skills at these free drop-in ELL groups.